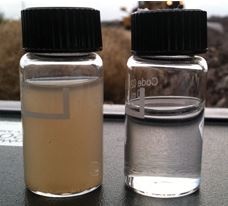 Dober's HaloKlear Products were featured in the November 2017 Issue of Water Conditioning and Purification's Magazine. Water Conditioning & Purification Magazine (WC&P) is a primary source for news, technical articles, and water science for point-of use/point-of-entry water treatment.
Click Here to View HaloKlear's Product Feature in WC&P Magazine.
When it comes to handling dirty water, HaloKlear has built its reputation on creating reliable, effective and safe solutions that can solve all kinds of sediment control problems. HaloKlear's Dual Product System (DPS) uses natural flocculants that completely biodegrade through simple enzymatic activity, resulting in no bioaccumulation and has been proven to have zero toxicity when used as directed.
HaloKlear's DPS has a best-in-class performance and has proven itself under vastly varied conditions around the world. It is used in systems ranging from active treatment for mobile water treatment, semi-passive pumped water incorporating coarse filtration and geotextile bags, and completely passive models, such as bio-filtration and check dams. HaloKlear DPS is designed to give contractors and industries in need of water treatment solutions the essential tool they need to meet state and national discharge regulations, as well as EPA Effluent Limitation Guidelines (ELGs).
Click below to request a sample of HaloKlear's Featured products.