You have options -
there's more than just floc logs!
Turbid storm water runoff from construction sites may contain all sorts of particulates, including organic matter, pesticide and fertilizer residues, and heavy metals like mercury and lead – colloidal suspensions that can't simply be filtered out, or settled out by gravity separation. If not remediated before it flows away from your site, this contaminated water can cause serious environmental issues, draw fines or even shut down your operation.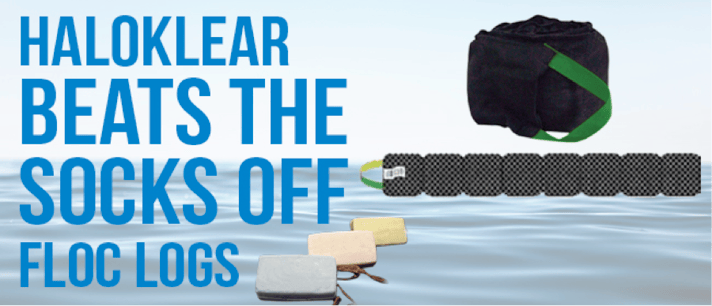 Why PAM can be a problem
You don't want the solution to become its own problem, however. While synthetic flocculants like PAM are commonly used in floc logs and similar products to remove these solids from contaminated water, residual acrylamide monomer in the treated runoff can itself be harmful to humans and fish alike.
You have another option - HaloKlear Floc Socks are different!
Made from chitosan, an all-natural biopolymer of chitin, commonly found in crustacean and insect shells, this nontoxic, biodegradable substance has never killed a fish, even after treating over 3 BILLION gallons of water. In fact, chitosan is used to clean tanks and ponds at sea-life exhibits, leaving these water habitats crystal clear – and SAFE.
How Floc Socks make it easy
HaloKlear Floc Socks from Dober are sturdy, connected, fabric pouches containing an all-natural flocculant that dissolves slowly as moving water passes over them, creating dense flocs – with great shear strength and low water content – that settle out quickly. Solids are efficiently removed from the water, allowing your crew to focus on their work – instead of on dirty water. In addition, the HaloKlear Floc Socks are extremely flexible, and can be used in active, passive, and semi-passive treatment environments.
Dober gets it done
HaloKlear Floc Socks have been successfully deployed in countless construction scenarios. We invite you to take a look at our Dry Socks Installation and Usage Guide for best management practices (BMPs) utilizing HaloKlear Floc Socks. Or just give us a call and speak to one of our Water Treatment Specialists at 800.323.4983. We'll help you put together the best solution for your specific situation.
View the Dry Socks Installation and Usage Guide now: